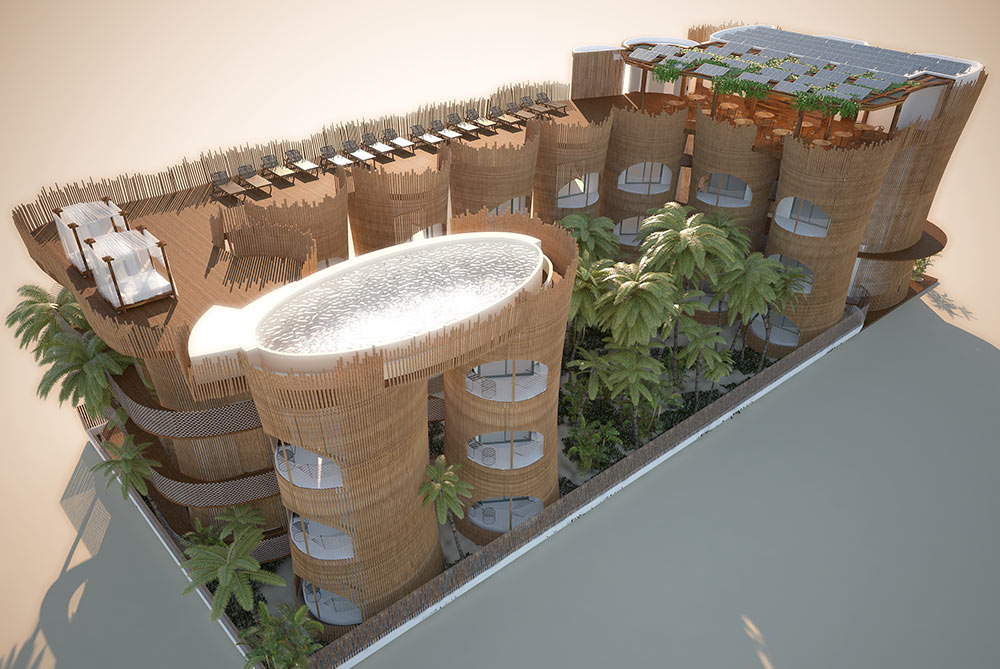 Bamboo Tree Boutique Hotel
The Hotel Bamboo Tree project consists of a Hotel for holiday use, in an avant-garde and innovative line in architecture, interior design and technology, maintaining integration with the environment, with a capacity of 39 rooms.
Conceptually, it is a project that is in dialogue with its context, sustainable and appropriate to the environment; the design takes advantage of natural ventilation, the position of the sun and green areas. The surface of the lot where the hotel project is proposed is 1,075.21 m2.
The Bamboo Tree Boutique Hotel was idealized with the concept of a floating house integrated with the immediate natural context, mimicking the existing vegetation of Holbox Island.
The main formal idea was to reinterpret the hyperbolic shape of the natural Bamboo plantations, with advanced growth.
Based on the tree houses, we proposed the raised project of the natural surface of the ground to reduce the negative impact on the existing natural mangrove. Likewise, the elevation would help us prevent floods in the storms that the island suffers on a recurring basis in certain seasons of the year.
Another important aspect of the design was the horizontal connections between room modules. In order to preserve the concept of independent buildings, "hanging" corridors are proposed that embrace the Bamboo leathers, but at the same time allow them their individuality.
To take full advantage of the views generated by the height of the building, the sun deck, the pool and the restaurant were proposed on the last level of the project. The infinity-style pool was located on the west side of the project to appreciate the spectacle of the sunset on the beaches of Holbox.
LOCATION: Holbox, Quintana Roo
STATUS: Under Construction
YEAR: 2021